New Socceroo Awer Mabil has faced 'a lot' of racism in Australia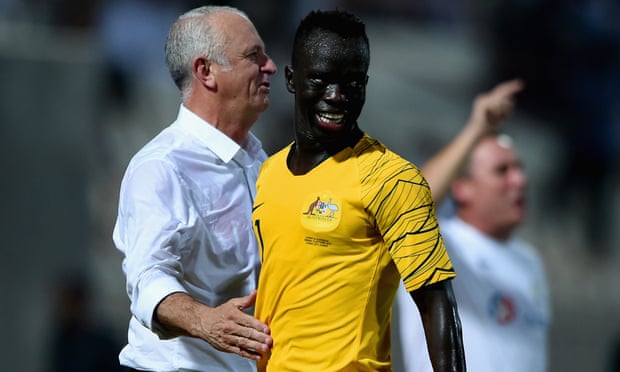 Awer Mabil says it's "normal"
maxbet
to be racially abused in Australia but the freshly-capped Socceroo, who was born in a refugee camp in Kenya, says he doesn't "judge Australia as a racist place". "There are certain people who are racist but it's a country that belongs to everybody," Mabil told the BBC's World Football program.
Mabil scored a goal on his Socceroos debut in a friendly against Kuwait last month and appears a certain squad selection for upcoming internationals against Korea and Lebanon. The footballer and his family came to Australia in 2006 after growing up in a mud hut in a refugee camp
maxbet
after his mother fled civil war in Sudan. The forward said he was frequently subjected to racism in Adelaide, where his family settled.
"I have faced it a lot," Mabil said. "Once, when I was 16, I came home and one of my neighbours attacked me. The first thing I did was shut the front door and hide my siblings. I was talking to these guys while the door was shut, I said 'go away.' They kept saying 'go back to your own country'.
"Apart from that,
maxbet
you experience day-to-day things like when you're walking along the road there are people in cars beeping you and saying things. That's normal." But Mabil, who began his top-tier football career at Adelaide United, said he was a proud Australian.